STUDENT INTERNSHIP PROGRAM
Mississippi INBRE Telenutrition Center is accepting applications from students who would like to gain research experience through working for various community-engaged projects. The Spring 2022 Telenutrition Internship will being mid-January 2022. Applications are due Jan 3, 2022 by 11:59pm.
Throughout this program, Telenutrition interns will become certified in research curriculum through the Collaborative Institutional Training Initiative (CITI Program) and trained in motivational interviewing techniques to become a health coach, participant manager, and/or research assistant for the Telenutrition Center's Move & Eat 2 Live Program.
The Move & Eat 2 Live Program is a voluntary research program designed to address obesity among adults in Mississippi. This program utilizes interventionists trained as health coaches to deliver a nutrition and physical activity program to young to middle-aged adults in Jackson and Hattiesburg, Mississippi. For more information, please visit:
www.telenutritioncenter.com/move-eat-2-live/
The responsibilities and information for the positions are listed below.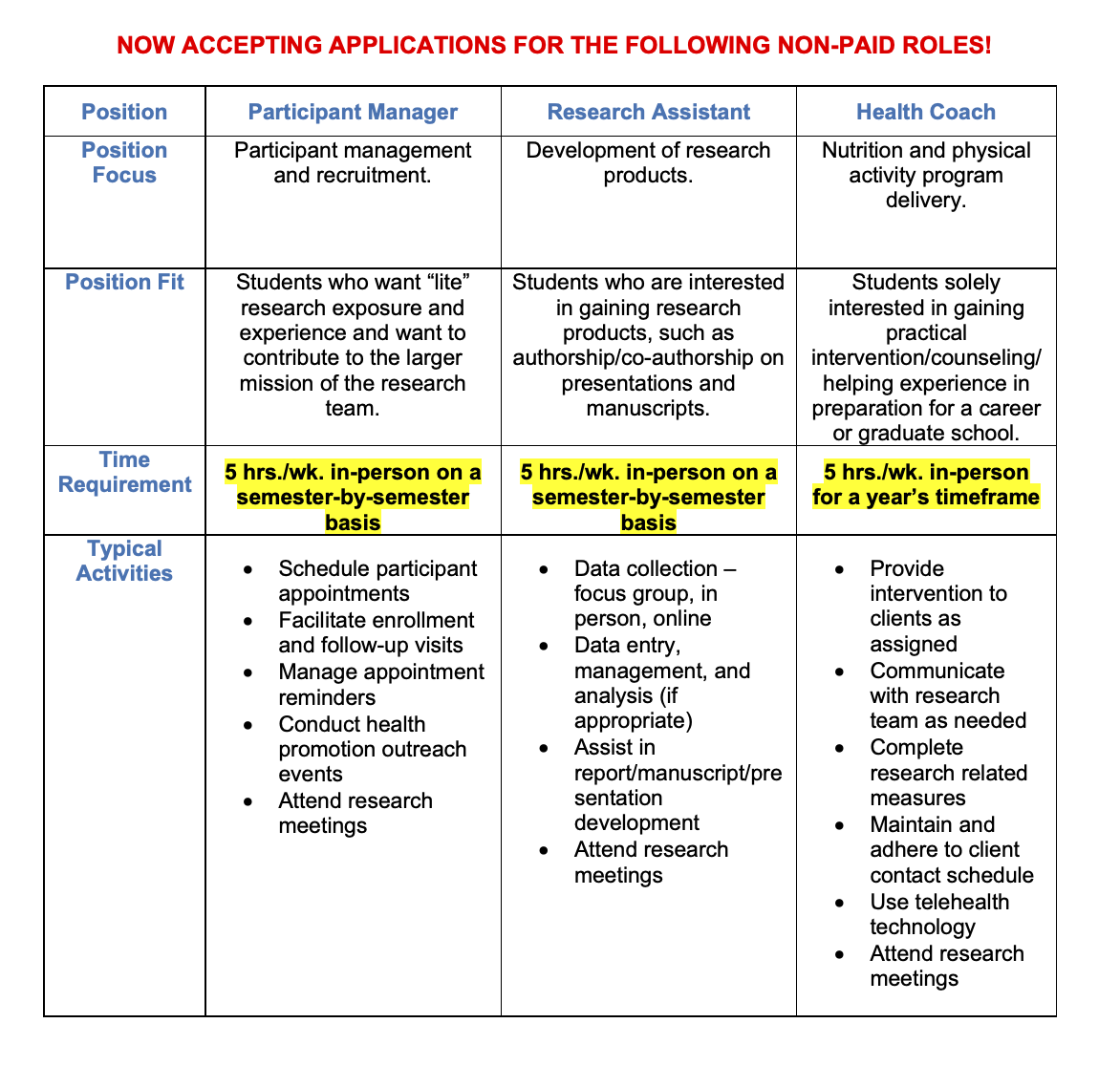 Interns chosen for the student internship will be required to complete the hours in the Telenutrition office on the USM campus or at the OAHC Community Health Solutions clinic each week. For these purposes, this program requires interns that are responsible, dedicated, engaged, and motivated. Responsibilities include five intern hours per week, one team meeting per week (included in 5 hrs/wk), health coaching participants to meet goals, filing information on participants, etc. This program benefits interns by providing research experience, volunteer hours, community betterment, internship work for future jobs, and motivational interviewing and health coaching knowledge/techniques. An intern will also be certified in research curriculum, such as Human Subjects Research and Common Courses, for five years after the CITI Program training.
Taking part in this internship program requires commitment from interns. This is a great opportunity as well to expand your experience in an internship and research.
To begin the application, please click here.